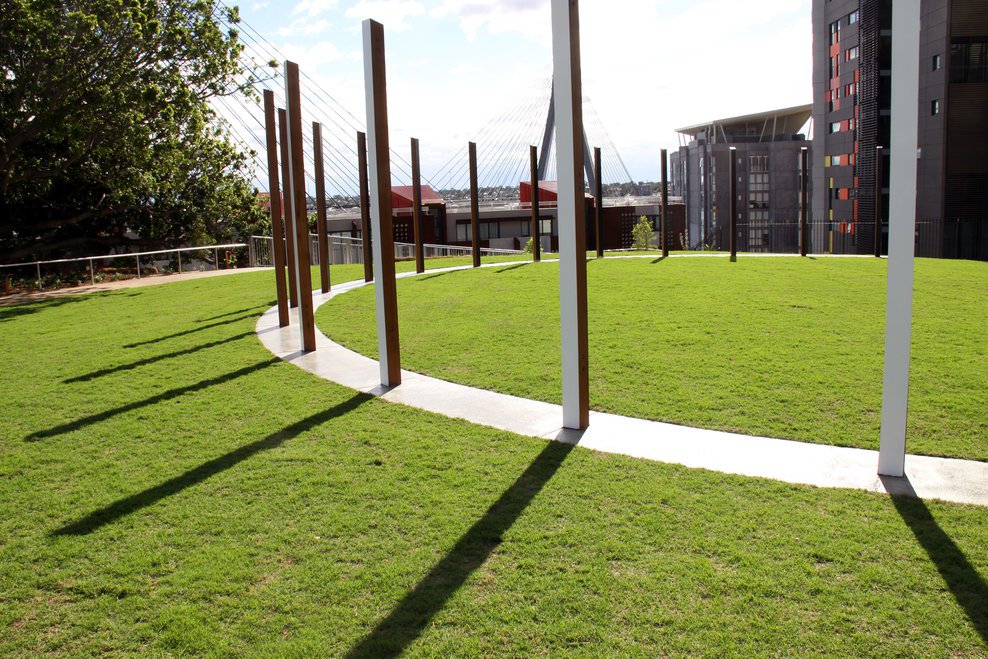 Location
Pyrmont, NSW
Client
Lend Lease
The project is an installation on the site of the Rum and Molasses Storage Tanks at Distillery Hill that seeks to evoke the physicality of the now demolished tanks and the materiality of their contents.
The Rum Tank
Rum, clear and sharp, is suggested by a rigid geometric arrangement of blade like timbers. The arrangement of timbers demarcates the perimeter of the larger tank, hinting the volume that once stood there. The inner edge of the blades are painted black, suggesting both the dark inside of the tank and the charcoal filters used in the purification of rum. The outer edge of the blades is painted the white of refined sugar. These edges add a graphic dimension to the work, presenting as thin lines in contrast to the bulk of the timber. The sense of volume provided by the timbers, spaced at 2 metre centres, varies as the visitor moves around the park.
The Molasses Tank
Molasses, viscous, luscious and dark brown, is suggested in the bulbous forms that trace part of the outline of one of the two smaller tanks. A dark brown precast concrete ring bench is proposed, inviting park users to sit or recline. The ring's curved sensuous profile is reminiscent of poured molasses and stands in stark contrast to the sharpness of the rum timbers.
A steel ring in the ground traces the location and size of a third tank. The 300mm wide corten ring has an interpretive text cut out along part of its length to reveal a white concrete surface below.