Erina Fair Town Square
2003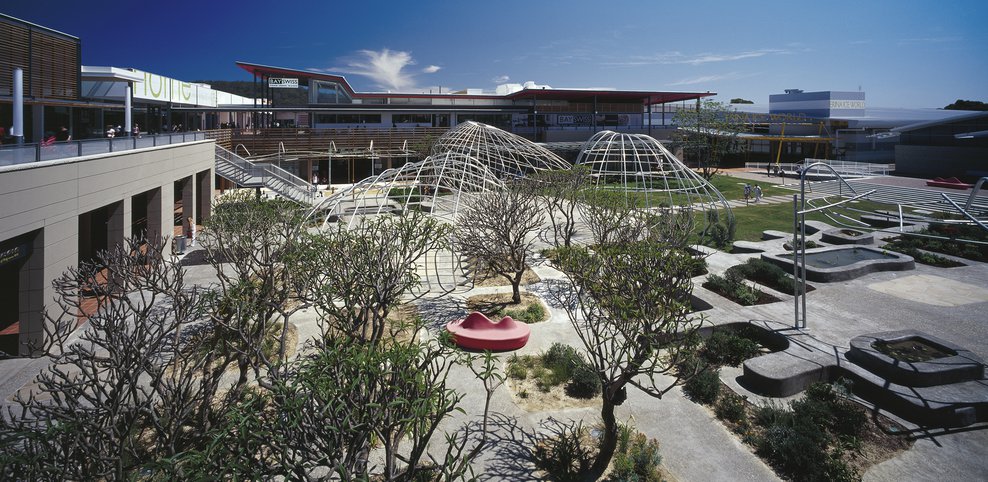 Location
Erina, NSW
Client
Lend Lease
Photography
Brett Boardman
Project Awards
RAIA NSW Premier's Award, 2005
JMD design were invited to design the main courtyard for the refurbished Erina Fair shopping centre complex on the NSW Central Coast.
The concept drew upon the Central Coast's domestic character to create a garden rich in horticulture and spatial interest at ground level and visually stimulating form the upper level retail concourse.
The courtyard that is bordered on three sides by a 5 metre high colonnade is organised around a grouping of trees and an arrangement of steel sculptures and pergolas.
A specimen Jacaranda in the open North-western corner stood in counterpoint to a grove of mature Frangipani trees along the southern edge of the colonnade and a sinuous planted pergola to the eastern and western edges. The focal point of the courtyard was three steel hoop structures large enough to be clearly seen from within the upper retail level. The hoops delineated large organic volumes and provided the support for climbing banksia roses. The volumes would over time become large rooms in which to enjoy the shade, dappled light and colour of their floral coat. One of the three hoop forms was also fitted with misting nozzles to provide periodic bursts of fog and atmosphere.
A distorted grid generated the geometry for the ground plane, the chessboard, the skewed cells for planting and the raised dining terrace with its ponds and planters.
The project has for the most part been demolished and altered.